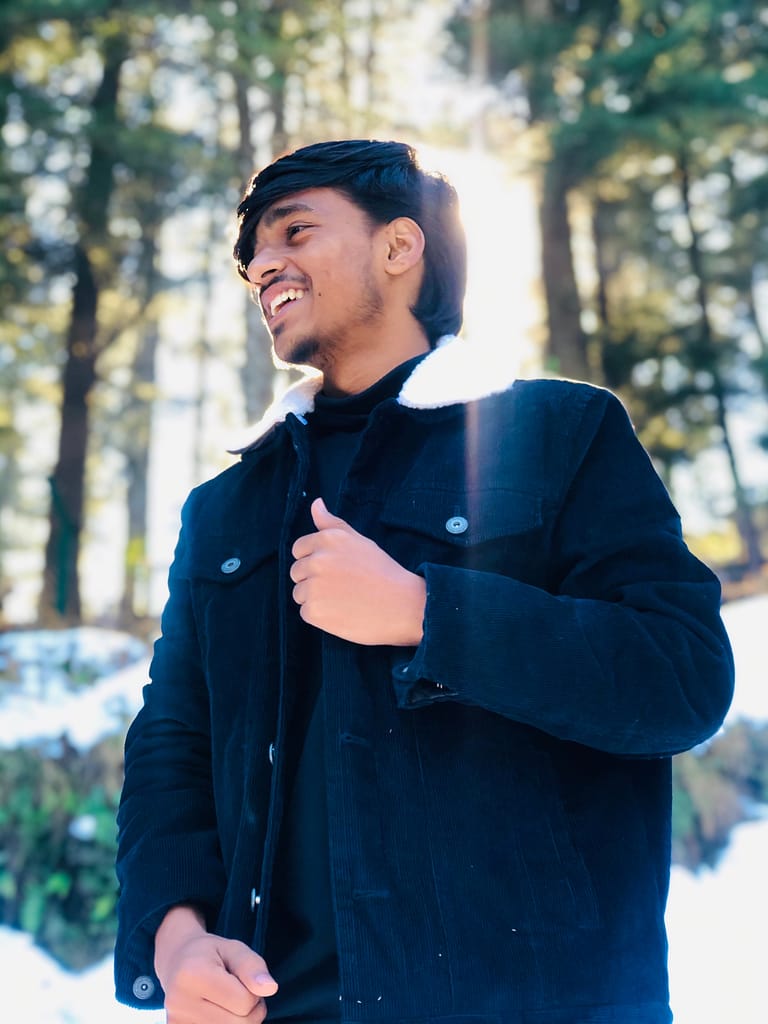 Namastay🙏🏻! My Name Is Ojash
I am the guy behind this tech blog. I am a tech enthusiast at heart and I love to keep up with the latest technology news and trends. This website is my way of sharing my passion for technology with the world.
I have always had a passion for technology and the endless possibilities it brings to our world. Growing up, I was the go-to person for all things tech-related among my friends and family. I loved troubleshooting and fixing any issues they had with their devices, and I was always eager to learn more about the latest gadgets and innovations.
As I got older, my love for technology only grew. I pursued a degree in Computer Science and also studied Journalism later as I also had a passion for writing. I have been writing about tech for over a decade and my writings have been featured in some of the most popular tech publications on the planet such as MakeUseOf, MakeTechEasier, CareerKarma, SlashGear, and many more.
I have also worked with many other tech publications including HandyRecovery, Laptop251, PowerBankExpert, LaptopVerge, just to name a few.
Eventually, I decided to take the leap and start ASAIITECH, with the goal of sharing my knowledge and insights with a wider audience.
Today, our tech blog has become a go-to resource for those looking to stay up-to-date on the latest tech trends and innovations. We cover a wide range of topics, from smartphones and laptops to smart home devices and beyond. Whether you're a tech enthusiast looking to stay on the cutting edge, or simply someone in need of some advice on how to fix a problem with your device, we've got you covered.
Thanks for stopping by, and I hope you enjoy reading my content! If you have any questions or just want to chat, feel free to drop me an email at ojash@asaiitech.com
So Why Did I Start My Own Website When I Already Wrote For Tech Giants?
Okay, so I have a story to tell. One day I was about to board an 8-hour long flight and as I waited at the airport, ready for the grueling long journey ahead, I pulled out my Mac and decided to download some movies from Netflix to pass the time. But to my dismay, I discovered that Netflix doesn't have an official app for macOS! Frustrated and desperate for entertainment, I searched online for a workaround, and unfortunately, all I came across was TRASHH!!. All the articles I found seemed to be written by charlatans promoting fake apps and offering impossible solutions. Even worse, some big publications were doing the same.
Feeling disillusioned, I decided to write my own guide on how to watch Netflix on a Mac when I came back. I wanted to create something genuine and useful for people like me who were struggling with the same problem. But when I pitched the idea to some big publications, they were like "meh, not a priority." So, I took matters into my own hands and started my own website. A place where tech enthusiasts like myself could come to learn about their computers and smartphones without being bombarded by spammy or dishonest articles. It's like a sanctuary for tech geeks.
I had always been passionate about writing helpful and valuable content, and I knew there were other tech enthusiasts out there who shared my values. So I gathered a team of like-minded writers and set out to create a place where people could come to learn about their computers and smartphones without being bombarded by spammy or dishonest articles. And that's exactly what ASAIITECH is all about.
Our Categories
A Message From The ASAIITECH Team
Welcome to the tech blog where we turn complex technology into simple solutions. We know that the world of technology can be overwhelming and ever-changing, but we're here to make it easy for you. Whether you're a Windows, macOS, Android, or iOS user, or simply someone looking for answers to everyday problems with your gadgets, we're dedicated to providing you with the best and most accurate information.
We understand that not everyone is a tech expert, but that doesn't mean you should be left behind in the digital age. Our team of experts has worked tirelessly to create detailed guides that are easy to understand and follow. We use a combination of original images, screenshots, and videos to bring the information to life and make it as simple as possible for you to execute.
But that's not all, we also recognize that technology is constantly evolving, new bugs and features are coming out every day, which is why we make it a point to regularly update our guides. We want to make sure that you have the most current and reliable information at your fingertips.
We're passionate about making technology accessible to everyone, and we believe that the best way to do that is through our step-by-step guides. So, come join us on this journey and let's make technology simple and easy to understand for everyone. And if you ever have any questions or feedback, we're always here to listen, please don't hesitate to reach out.
Meet Our Editorial Team Of Tech Experts
Our team of experts at ASAII has a wealth of experience in the field of technology. With decades of combined experience working in both industry and academia, our team members have a deep understanding of the latest developments and trends in computer and smartphone technology. From software development to hardware design, our experts are well-versed in all aspects of the field.
So whether you're looking to learn more about the latest smartphones, troubleshoot an issue with your computer, or understand the impact of emerging technologies on the Internet, our experts have the knowledge and experience to provide valuable insights. We pride ourselves on staying up-to-date with the latest advancements in technology and providing our readers with the most accurate and reliable information.
At ASAIITECH, we take the quality of our content very seriously. So seriously, that every article goes through a rigorous editing process that would make a dictionary cry, and fact-checking that would make a detective proud. We're talking multiple rounds of editing and fact-checking by experts who have a PhD in nitpicking. So, you can rest assured that when you read something on our site, it's been vetted harder than a presidential candidate.
Meet Hashir, the tech whiz who has made a name for himself in the world of Apple technology. With over 12 years of experience in the industry and a degree in Information Technology and a master's degree in cybersecurity, Hashir is a true expert in his field.
But don't just take our word for it, his work has been featured on some of the most well-known tech publications out there such as MakeUseOf, MakeTechEasier, laptop251, Lift, and also some lesser known publications like TechanZone, Retro vGames, How To Watch, 7Beasts, Thetic Blog, TechObservatory, VPNWrites and many more. That's right, Hashir's writing on MacBooks and iPhones has been read by millions or people, and for good reason— he knows his stuff! From hardware and software, to design and technology, Hashir has covered it all, providing readers with valuable insights and a unique perspective on all things Apple.
At ASAIITECH Hashir's leverages his expertise to ensures that ASAIITECH Apple section is nothing short of the absolute best. He's always on top of the latest developments in the Apple world and makes sure the content on the site is accurate, informative and top notch. He works closely with the editorial team to come up with new and exciting content, always aiming to give readers the best experience possible.
---
Ratnesh is a tech journalist and editor with over a decade of experience in the field. Ratnesh holds a degree in computer science and a masters degree in operating systems, making him well-versed in the latest technology trends and developments.
Ratnesh is a prolific writer, with his work appearing on some of the most prominent tech sites on the web, such as MakeTechEasier, Fossbytes, StellarInfo, TechYorker, and many others. He also has a YouTube channel where he shares the latest news and insights on technology. His focus is primarily on evergreen content surrounding Android and Windows, making him a go-to source for reliable and informative technology coverage related to all things Android and Windows.
In addition to his writing and editing work, Ratnesh is also the founder and CEO of YorkerMedia, a media publication that operates a portfolio of tech blogs. Through this platform, Ratnesh is able to share his expertise and insights with a wider audience, while also providing a platform for other tech journalists and writers to showcase their work.
With a wealth of experience and a deep understanding of the technology landscape, Ratnesh is a trusted and respected voice in the industry. And he leverages his expertise and experience to make sure that every article on ASAII is factually correct and up to date.
---
Abhishek is a tech journalist and editor who seamlessly blends his background in software development and cybersecurity to give readers an unparalleled perspective on the industry. He holds a degree in Software Development and has built a reputation as a respected voice in the tech space with several years of experience.
For the past few years, Abhishek has been uncovering the latest trends and developments for major publications such as MakeUseOf and Fossybytes, writing hundreds of news stories and articles that provide readers with an in-depth understanding of the industry.
His expertise as an editor is unmatched, Abhishek brings his technical background, knowledge of the industry, and storytelling skills to craft articles that are not only accurate and informative, but also engaging. He takes his readers on a journey of discovery, breaking down complex technical concepts and making them easily understandable for the general public.
At ASAIITECH, Abhishek works closely with the editorial team to develop and execute the editorial strategy and makes sure that the content is engaging and relevant for the readers. With his ability to identify and explain the most important and relevant information, Abhishek ensures that ASAIITECH readers are always at the forefront of the latest developments in the tech industry.
---
Meet Pawan, our lead editor for the Android section on ASAIITECH. With over a decade of experience in the tech industry, Pawan is a true expert when it comes to all things Windows and Android. He has a deep understanding of the latest developments in these fields, and is always on the lookout for new and innovative ways to use technology to make our lives easier.
Pawan's passion for technology began in his teenage years, when he first discovered the world of Windows and Android. Fascinated by the endless possibilities of these platforms, he spent countless hours tinkering with different devices and experimenting with different apps and software. Eventually, this passion led him to pursue a career in the tech industry, where he has been working ever since.
In his role as lead editor for the Windows and Android section on ASAIITECH, Pawan is responsible for curating and publishing the latest news, reviews, and tutorials related to these platforms. He also works closely with our team of experts to create high-quality content that is both informative and engaging. With Pawan at the helm, you can be sure that the Windows and Android section on ASAIITECH will always be at the cutting edge of technology.
---
Ritika is an experienced editor with a knack for all things social media and marketing. She has over 7 years of experience working in the social media industry, with a proven track record of driving traffic and increasing revenue for her clients. Ritika is known for her expertise in utilizing social media platforms like Instagram, Snapchat, and Facebook to achieve success for her clients.
As an editor for ASAIITECH, Ritika is responsible for managing the social media section and plays a pivotal role in making sure that the articles covered in ASAIITECH's social media section are up to date and accurate. She is also an expert in performance marketing and has a record of running successful social media campaigns that target the right audience, resulting in a 4x increase in turnover for the portfolio of clients she manages for her own brand.
Ritika's deep understanding of the social media platform like Instagram, Snapchat, and Facebook combined with her knowledge of the social media marketing industry, make her a valuable asset to the team at ASAIITECH. She stays on top of the latest trends and is well-versed in growing and engaging a not so tech-savvy audience. With her expertise and guidance, ASAIITECH is sure to continue providing its readers with top-notch content and stay ahead of the curve in the tech world.
What Our Readers Say
"I've been a fan of this tech blog for a while now and I am consistently impressed by the quality of the content. The articles are always up-to-date and written in a way that is accessible to readers of all levels of technical knowledge. If you're looking for a reliable source of tech news and tips, this is the blog for you."
"I can't thank this blog enough for helping me out with so many things. The other day I was trying to create a group chat on Snapchat and I had to go through many articles before I finally found the fix here on ASAIITECH. I am not a tech-savvy person but I could easily create a public profile by just following the instructions on the images. "
"During my internship, I had to use a webmail called One-in-One and struggled to find a comprehensive and helpful guide online. Fortunately, I came across the one published by ASAIITECH and was able to quickly learn how to use the webmail thanks to its clear and detailed instructions. The guide was a lifesaver as I was having a lot of difficulty navigating the confusing interface,"
"As someone who is always looking for ways to improve my tech skills, this blog has been an invaluable resource. The articles are well-written and provide a ton of valuable information for readers of all levels of technical expertise. I've learned so much from reading this blog and I highly recommend it to anyone interested in technology."
Visit us
Our office is located at 304 S Jones Blvd, Las Vegas, NV 89107, United States. Feel free to send us a mail at this address, or join us for a cup of Indian chai ☕️.